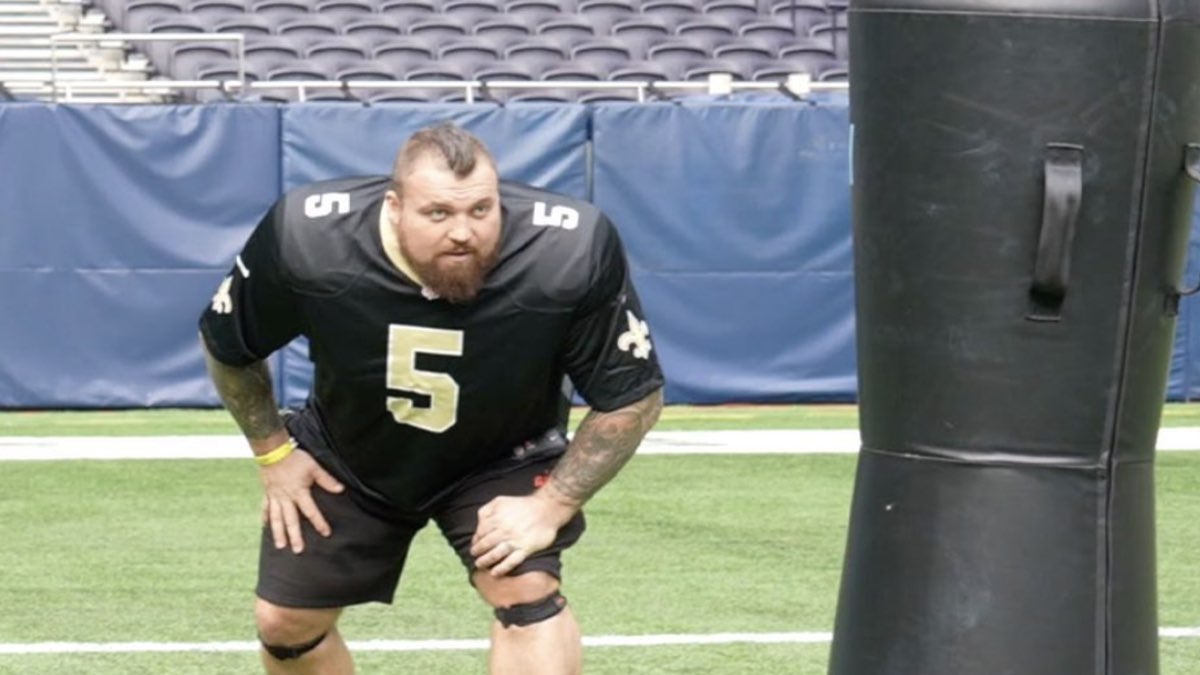 [ad_1]

As a former World's Strongest Man (WSM) champion in 2017, there's little doubt that Eddie Hall possesses the requisite strength and power needed to thrive as an American football player. The strongman legend recently decided to put some of his other skills to the test in a direct application.
On Oct. 23, 2022, Hall posted a video to his YouTube channel where he tried several drills featured in the National Football League's (NFL) annual Scouting Combine that test the athletic aptitude of incoming rookie players. Going a little bit out of his comfort zone seemed fun for Hall to check up on his overall athletic talents in an unfamiliar environment.
[Related: How to Eat More for Muscle and Strength Gains]
To ensure he would conduct every drill appropriately, Hall had former long-time NFL veteran Jack Crawford and rugby/former NFL player Christian Scotland-Williamson on hand to help. The combine-style workout took place at Tottenham Hotspur Stadium in London, UK. (Note: The stadium is one of the few venues in which the NFL sometimes plays regular season games, with another notable location being Wembley Stadium, also in London.)
After maintaining that he "can't catch, can't throw, and can't run" but can probably "mow people down," Hall padded himself in equipment and got to work.
The first drill saw Hall test his agility in the 20-yard shuttle to see how he changed direction. The drill has an athlete start in between a 10-yard margin. While pivoting, they run five yards to each side before a final 10-yard sprint. Hall notched a time of 5.15 seconds. For someone of his 300-plus-pound size, such a time compares well to NFL offensive linemen. For example, Houston Texans offensive guard and 2022 NFL draft selection Kenyon Green completed his official shuttle run in 5.12 seconds, per the NFL database.
[Related: How to Do the Close-Grip Bench Press for Bigger, Stronger Triceps]
Hall followed the shuttle run with the broad jump — where the athlete tests their forward-leaping ability. Hall managed to notch a distance of 6.5 feet (or 78 inches). This compared less favorably to NFL offensive linemen, as someone like the Los Angeles Chargers' Zion Johnson broad-jumped 9.3 feet (or 112 inches) in March 2022's edition of the actual Combine, according to Pro Football Reference. (Note: Hall completed his broad jump in shoulder pads and protective knee wear, potentially limiting his mobility. Whereas NFL athletes complete their tests in shorts and shirts.)
Hall finally tried his hand at the famed 40-yard dash to close this short mock NFL combine. A simple ask, all he had to do was run 40 yards in a straight line as fast as possible. He finished with a time of 5.73 seconds. Considering his lack of experience, that time might be solid. Though, again, mobility issues aside, that time doesn't compare well with young professional offensive linemen, as someone like Johnson had a 40-yard dash of 5.18 seconds. In this drill, more than half a second is a significant difference.
[Related: How to Do the Weighted Pull-Up — Benefits, Variations, and More]
With this Combine mock-up in the rearview mirror, Hall is preparing for his strongman comeback. After retirement in 2017, he will return as captain of Team UK at the 2022 Giants Live World Nation on Nov. 26, 2022, at the M&S Bank Arena in Liverpool, England. Hall might have been a successful American football player in a different world.
In this reality, strongman is his calling, and it should be fascinating to see how he fares in what will likely be a highly-anticipated return.
Featured image: @eddiehallwsm on Instagram
[ad_2]

Source link