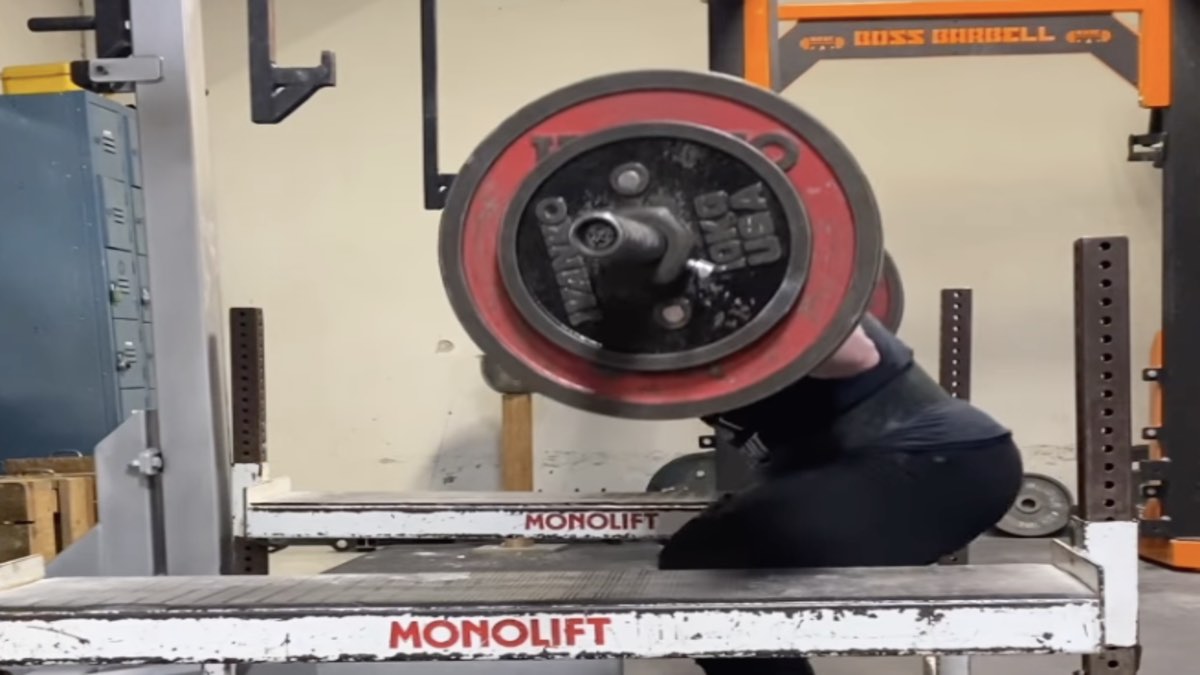 [ad_1]

Kristy Hawkins is at a stage in her powerlifting career where the baseline expectation might be that she'll lift something incredible whenever she gets a barbell in her hands. The athlete didn't disappoint on this billing with her latest noteworthy feat of strength.
On Oct. 25, 2022, Hawkins posted an Instagram clip of herself capturing a 250-kilogram (551-pound) raw back squat for three reps during a training session. According to the caption of her post, the massive squat is a personal record (PR) for Hawkins. The athlete wore a lifting belt to help with the latest demonstration of her unique power.
[Related: Forced Reps — What They Are and How to Use Them]
As impressive as Hawkins' squat achievement is at first glance, she was her harshest critic as the athlete didn't seem pleased with the overall result. Especially on a lift that appeared to be smooth and go off without a hitch through all three reps. In her Instagram post, the powerlifter seemed to imply she may have been able to squat more on a better day.
Not happy with how squats felt and moved tonight but managed a PR.
Hawkins is no stranger to incredible milestones on her lifts. The athlete owns the World Record for the squat, deadlift, and total in the 75-kilogram weight class. Her top-ever competitive bench press of 155 kilograms (341.7 pounds) is also the second heaviest all-time, behind Allison Hind's press of 163.3 kilograms (360 pounds) from the 2022 Revolution Powerlifting Syndicate (RPS) North American and New Jersey State Championships.
Here's an overview of Hawkins' all-time raw competition bests:
Kristy Hawkins (75KG) | All-Time Raw Competition Bests
Squat — 262.5 kilograms (578.7 pounds) | World Record
Bench Press — 155 kilograms (341.7 pounds) | Second-Heaviest All-Time
Deadlift — 278 kilograms (611.7 pounds) | World Record
Total — 685 kilograms (1,510.1 pounds) | World Record
At the time of this writing, Hawkins' three-rep squat PR seems connected to preparation for an undisclosed powerlifting contest in December. A previous social media post saw the athlete alluding to a competition in the late fall, but she didn't share what that contest was. At the same time, her social media is littered with recent clips of rep PRs on her squat and deadlift. (Notably, in mid-July 2022, Hawkins deadlifted over 22 pounds above her World Record figure.)
For Hawkins, she will likely excel wherever that stage is, considering the powerlifter has won 11 straight competitions dating back to mid-May 2015. To date, she has also never failed to qualify for the podium and has only failed to win outright on four occasions in a career that began in April 2014.
[Related: How to Eat More for Muscle and Strength Gains]
Hawkins' records of success and achievement can probably speak for themselves. As one of powerlifting's elite superstars, she very well might cap the 2022 calendar year by standing on top of yet another podium.
Featured image: @kristy_hawkins on Instagram
[ad_2]

Source link