[ad_1]

For the fourth and final installment of our Women's Health Month blog series, we spoke with Lei Wang, MD, a rheumatologist with Dignity Health Woodland Clinic. Dr. Wang shares guidance on common rheumatic diseases — which are conditions that affect joints, tendons, ligaments, bones, and muscles.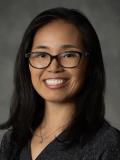 What are some rheumatic conditions women should be aware of as they age?
Dr. Wang: There are several common rheumatic disorders that can affect people as they age, including polymyalgia rheumatica, giant cell arteritis, osteoarthritis, crystal arthritis and osteoporosis. Among these conditions, the following are more common in women, especially after they enter menopause, around age 55:
Osteoarthritis is damage to the cartilage at the end of our bones, causing the bones within the joint to rub together and produce pain, swelling or loss of motion.
Osteoporosis is a loss of bone mass or density, causing bones to become brittle and raising the risk for bone breakage.
What preventative measures can women take to lower their risk of these conditions?
Dr. Wang: Taking calcium and vitamin D supplements, both which are essential nutrients for bone health. Even girls in their early teens should get adequate calcium in their diet to prevent osteoporosis later in life.
Healthy lifestyle habits can help reduce the risk of developing rheumatic conditions, as well as contribute to overall good health including:
Maintaining a healthy weight
Incorporating exercise into daily activity (aerobic exercise, weight-bearing and resistance exercises)
Quitting or avoiding smoking cigarettes
Limiting alcohol intake
Removing potential dangers from the home to prevent falls or injury
Often, osteoporosis symptoms are not noticeable, making screening especially important as we age. The sooner osteoporosis is detected, the sooner lifestyle changes can be implemented that can greatly reduce the risk of fractures. Women who are postmenopausal and women over 65 years old should be screened for osteoporosis annually. If you notice a loss of height, stooped posture, low back pain, or an easily broken bone, you should talk to your doctor about screening.
Contact your primary care physician or rheumatologist to discuss and schedule annual screenings, or consult our "Find a Doctor" tool to find a Dignity Health doctor near you.
[ad_2]

Source link